Sorry OK Yes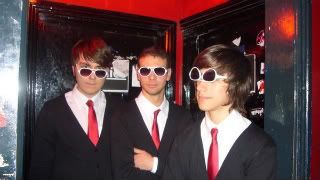 Myspace
//
"Smoky Electro Eyes"
[mp3]


According to the band's bio, Sorry OK Yes "have created a sound, which you can't and even don't want to classify."


I am with these guys -- I am over classification and putting things into neat little groups. Can music just sound good, feel good and be good? This Italian group, made up of three 19 year-olds, know what sounds good and they get right to the point by making music that updates The Kinks for the 21st century. Over the next few months the band will be playing around Europe, including a date at Liverpool Soundcity, and a string of shows in the US this August. Their first single, "I Just Want To Be a DJ," will be out on
WIT Records
later this spring.
Labels: Italy, Sorry OK Yes, WIT Records