A Passing Feeling + Shows In Boston This Week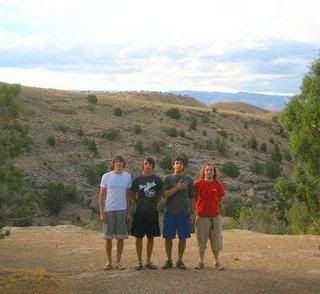 Friday night was a bit of a flashback for me. Growing up in the Philly area, there were always a ton of really great house shows, just basements full of good friends, great bands and a few kegs. In the past few years, situations like this have been few and far between, as the few house shows I've attended in Boston have sucked, but this one was the most fun I've had at a show all year.
A Passing Feeling's
set in Allston Friday night was everything you could want in a basement -- it was hyperactive, exciting, and of course, fueled by cheap beer. I've had plenty of time to become familiar with the band's latest album

We Might Not Sleep At All This Year

, but seeing the band live really lit up the album for me. The highlights of the night were the new songs -- I didn't really catch the titles or anything, but keep an eye out for a new release from the band, who just seem to keep getting better and better. Their sound is in the vein of The Thermals with Conor Oberst as a lead singer [vocals, not lyrics], although the band is definitely coming into their own.


[Myspace]
A Passing Feeling

[mp3]
"Keystone And Headache"
[mp3]
"The New Year"
This Week In Boston
06.18: Big Business/Panthers @ Middle East Up
06.21: Get Him Eat Him @ Middle East Up
06.22: Taxpayer @ TT the Bears
06.22: Wheat @ Middle East Up
06.22: Illinois @ Great Scott
06.22: The Pill @ Great Scott
06.23: Cowboy Junkies @ Symphony Hall
06.24: The Narrator @ TT the Bears