Los Olvidados On Tour + New Demo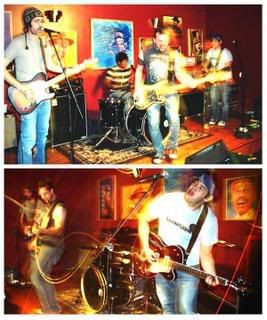 This California band has been among our favorite bands for the last year, and although there great debut album is still sinking in, frontman Alex Jones has been busy recording new material. The songs may be raw but they are among the best I've heard from the group, showing a potential that has yet to be met. These guys are going to be all over the West Coast this summer, and if they are in your town, make sure yoou get out to the show.


Jun 20 2007 the blue lagoon santa cruz, California

Jun 22 2007 Nickel City San Jose, California

Jun 23 2007 brainwash cafe san francisco, California

Jun 24 2007 the shop sonoma, California

Jun 25 2007 The Knockout Room San Francisco, California

Jun 27 2007 Ash Street Saloon Portland, Oregon

Jun 28 2007 Boundary Bay Brewing Bellingham, Washington

Jun 29 2007 Basement Show Seattle, Washington

Jun 30 2007 Pegasus Coffee House Bainbridge Island, Washington

Jul 1 2007 Mars Bar Seattle, Washington

Jul 3 2007 Hot Shotz Bellingham, Washington

Jul 5 2007 Red Room Portland, Oregon

Jul 6 2007 Black Forrest Eugene, Oregon

Jul 7 2007 KSLG Radio Arcata, California

Jul 7 2007 The Alibi Arcata, California

Jul 28 2007 The Brainwash Cafe San Francisco, California
[Myspace]
Los Olvidados
[mp3]
"American Dragon (You Don't Know Me)"