Bloc Party: MP3 Giveaway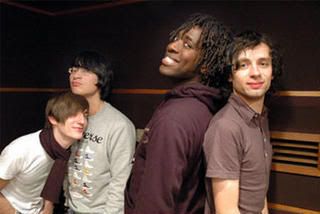 I think we've made it pretty clear how we feel about
Bloc Party
around here and we're not even close to getting sick of their new album. Since
Vice
hasn't made any tracks off of

A Weekend In The City

available for free download [which is pretty stupid, btw], they still wanted to do something to repay the fans. For the past week, Vice's mp3 blog has posted several exclusive tracks, all of which are lined below.
The band is still on the road, and they'll be in Boston on Wednesday for the
WFNX Best Music Poll
.
3 Jun 2007 DAR Constitution Hall WASHINGTON, Washington DC
5 Jun 2007 Tower Theatre Philadelphia, Pennsylvania
6 Jun 2007 WFNX Best Music Poll Boston, MA
7 Jun 2007 Convention Hall Asbury Park, New Jersey
11 Jun 2007 Uptown Theatre Kansas City, Missouri
12 Jun 2007 Ogden Theatre Denver, Colorado
13 Jun 2007 The Pearl Las Vegas, Nevada
16 Jun 2007 Concerts in the Park Alpine, California
[Myspace]
Bloc Party
[mp3]
"Say It Right"
[Nelly Furtado cover]
[mp3]
Bloc Party vs. Gwen Stefani "What You Hunting For?"
[mp3]
Bloc Party vs. Coldplay "Hunting For Witches In My Place"
[mp3]
"I Still Remember"
[Live @ WFNX]
[mp3]
"Sunday"
[Live @ WFNX
[mp3]
Bloc Party vs. Madonna "Groovecopter"