Cary Brothers On Tour + Shows In Boston This Week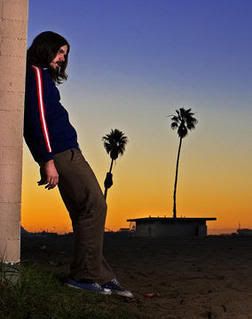 "(Brothers is) one of the emerging acoustic talents in Los Angeles... If he'd been old enough in the late '60s, he probably would've grabbed a few rounds with a young David Crosby or shared a smoke with Joni Mitchell after an appearance together at a local coffeehouse..."
- Billboard


Los Angeles singer-songwriter
Cary Brothers
will be living on the road this summer in support of his new album,

Who You Are

on
Bluhammock
. I know the whole "singer-songwriter" tag can be a red flag from people, but influences that range from The Stone Roses, Pete Yorn and Snow Patrol give him an edge that shines through both live and on disc.


7/11: Santa Barbara, CA @ Soho Restaurant & Music Club
7/12: San Francisco, CA @ Cafe Du Nord

7/14: Portland, OR @ Doug Fir Lounge

7/15: Seattle, WA @ Tractor Tavern

7/16: Vancouver @ Richard's On Richards Cabaret

7/18: Boise, ID @ Bourbon Street at Big Easy

7/19: Salt Lake City, UT @ Burt's Tiki Lounge

7/21: Denver, CO @ Soiled Dove

7/23: Omaha, NE @ The Waiting Room
7/24: Minneapolis, MN @ The Varsity Theater

7/26: Chicago, IL @ Schubas Tavern

7/27: Cleveland, OH @ Grog Shop
7/28: Detroit, MI @ Shelter at St. Andrew's

7/29: Toronto @ El Mocambo Club
7/30: Montreal @ Petit Campus

7/31: South Burlington, VT @ Higher Ground

8/01: Northampton, MA @ Iron Hourse Music Hall
8/03: Boston, MA @ Paradise Lounge

8/04: Highmount, NY @ Belleayre Music Fest
8/06: New York, NY @ Bowery Ballroom

8/07: Atlantic City, NJ @ Dante Hall Theater of the Arts
8/08: Philadelphia, PA @ World Cafe Live

8/09: Vienna, VA @ Jammin' Java

8/10: Chapel Hill, NC @ Local 506

8/11: Atlanta, GA @ Smith's Olde Bar
8/12: Birmingham, AL @ Zydeco

8/14: Nashville, TN @ Exit/In

8/15: St. Louis, MO @ Blueberry Hill

8/17: Dallas, TX @ The Cambridge Room at HOB

8/18: Austin, TX @ Stubbs Jr Bar-B-Q

8/20: Phoenix, AZ @ The Rhythm Room

8/21: Solana Beach, CA @ Belly Up Tavern

8/22: West Hollywood, CA @ Troubadour


[Myspace]
Cary Brothers

[mp3]
"Ride"
[mp3]
"Who You Are"
This Week In Boston

06.04: The Pipettes/Smoosh @ Great Scott

06.05: Great Lake Swimmers/Eleni Mandell @ Middle East Up

06.05: Priestbird @ TT the Bears

06.05: The Sea & The Cake/Loney, Dear @ The Paradise

06.06: Califone/Geoff Farina @ Middle East Up

06.06: WFNX Best Music Poll/Lansdowne St: Bloc Party/Kings of Leon/Snowden/Silversun Pickups/Clap Your Hands Say Yeah/Shiny Toy Guns/Say Anything

06.07: The Stills @ Great Scott

06.07: The Horrors/Schoolyard Heroes @ The Paradise

06.08: The Fleshtones/The Downbeat 5 @ Middle East Up

06.08: The Bon Savants/Aberdeen City @ The Paradise

06.08: The Long Blondes/Nicole Atkins & the Sea @ Great Scott [9 pm]

06.08: The Pill @ Great Scott [11 pm]

06.09: The Veils/The Phoenix Foundation @ Great Scott

06.09: Feist/Grizzly Bear @ Berklee Performaning Arts Center

06.09: Kevin Devine/The Everyday Visuals @ TT the Bears

06.09: The Clientele/Beach House @ MFA