Neon Plastix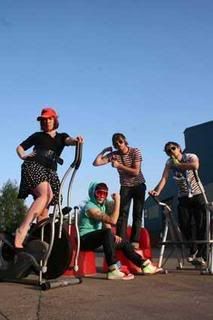 Electro punk is either hit or miss. For every band making exciting new music, there are ten imitators that just recycle the same tired synth progressions over and over again. Why listen to

The Bravery

doing a bad imitation of

New Order

, when you can just listen to New Order? Separating the wheat from the chaff can be a mind numbing activity. Lucky for me, I randomly came across a band today that is just THE definition of wheat.
That band is
The Neon Plastix
, a great young group that hails from Doncaster, UK. Mixing the best disco beats together with angular synthesizers and aggressive punk vocals, The Neon Plastix takes the typical dance punk fare and basically speeds it up about a thousand times. The result is a sound halfway between
iForward, Russia!
and
Devo
. Though they've only released one single thus far, the band has already played alongside
The Sunshine Underground
,
The Charlatans
,
The Kooks
, and
Clor
, so I think they're well on their way to a big bright future. Their second single "Dream"/"On Fire" comes out on November 6, but only 1000 are being pressed so make sure to buy yours early!
Myspace
:
The Neon Plastix
Audio
: "On Fire"