Boston: Shows [Week of 10.23.06]
10.25: Age Rings @ T.T. The Bears
10.26: Do Make Say Think @ Middle East Down
10.26: The Killers @ Orpheum Theatre
10.27: Fiery Furnaces/Viva Viva @ Middle East Down
10.28: Cold War Kids/Foreign Born/Swearing At Motorists @ Great Scott
10.28: 400 Blows/James Kochalka Superstar @ Middle East Up
10.29: The Plot To Blow Up The Eiffel Tower @ Great Scott
10.29 : These Arms Are Snakes/French Toast @ Middle East Up

CMJ is just a week away, and this year it's an extra day longer. That's fortunate because things will be more spread out, and I won't have to worry about burning out until Friday, instead of Thursday. There are a ton of great new bands playing this year, and the bulk of my posts will be dedicated to that this week.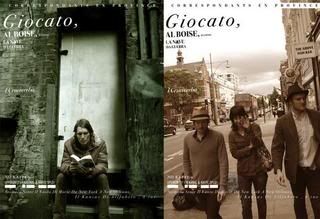 10.28: Cold War Kids/Foreign Born/Swearing At Motorists @ Great Scott
Pitchfork really hates the Cold War Kids. First they ripped apart the brilliant track "Hospital Beds" and last week they saved no vile when reviewing the recently-released

Robbers & Cowards

. They've been a favorite of ours here for the better part of the year, with their revival-like live shows and songs that drip of the great names of rock past --

Jeff Buckley

,

Lou Reed

and

Marvin Gaye

, all musicians that were genuinely talented in their own right. Do yourself a favor and make it out this show because this could really be your last time to see them in a venue this small [21+; 9pm; $10]


Buy:

Robbers & Cowards

MySpace:
Cold War Kids
Audio:
"We Used To Vacation"
Audio:
"Hospital Beds"
[demo]