Viva Voce
TMI Alert: I basically touch myself whenever
Barsuk
releases a new album. I know I'm not alone in this… I have the hinting suspicion that there are about ten thousand other sexually awkward indie kids who yank it to the luscious pop stylings of
Nada Surf
,
Rilo Kiley
,
The Long Winters
, and the like. Not that there's anything wrong with it. Just try to name another label (indie or otherwise) with such a
great roster of bands
and we'll have it out in the comments section.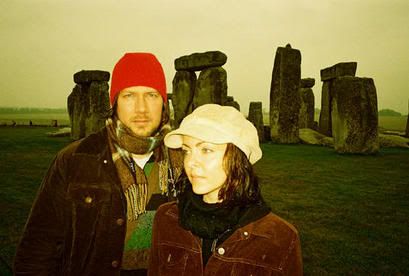 Next month, Barsuk will release the fourth album by one of their newest signees, the criminally overlooked Portland duo
Viva Voce
. Their new album
Get Yr Blood Sucked Out
is incredible, though I can't seem to write a coherent explanation as to "why" it is so good. It just is. Period.
Maybe it's due to the band's musical versatility. Not staying too long in any one style, Viva Voce merges elements of indie pop, hard rock, blues, and even spirituals to create a mishmash of textures from song to song. Although you wouldn't necessarily recognize that the same band plays on the soft "Never Be Like Yesterday" and the rowdy "Believer," the incredible sonic range somehow works magically in the context of the entire album.
Get Yr Blood Sucked Out
starts with a downright dirty rocker ("Believer") and is then followed by a hard edged, bluesy number that is offset by Anita's almost ethereal female vocals ("When Planets Collide"). "From The Devil Himself" feels like a Pentecostal revival meeting with the communal singing and handclaps—well, if the church members drank a little whiskey beforehand. To put it bluntly, these are the type of songs you fuck to.
In comparison, the slower tracks towards the end of the album ("Special Thing," "Never Be Like Yesterday") are more sparsely orchestrated and evoke a feeling of delicateness. These sweet love songs are the type that would accompany a night of red wine, flickering candlelight, and lovemaking. Though different from fucking, we all know that it's good in its own right. Right?
Musical and stylistic contradictions like these are what make the album interesting and, ultimately, compelling. I can't wait to see them live when they tour with the
Silversun Pickups
this fall.
Myspace:
Viva Voce
Audio

: "When Planets Collide"