Be Your Own Pet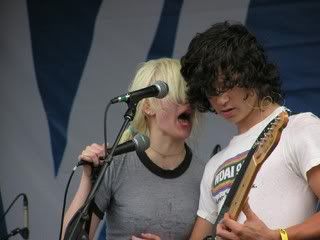 Be Your Own Pet have been making quite a racket both in their home state of Tennessee and the UK for well over a year, and the group is just barely out of high school. Lead singer Jemina Pearl has the voice and stage presence of a below the Mason-Dixon line Karen O., while the rest of the band exudes the wiry energy of that gangly kid who you're friends with just so he can hack into the school's computer system to change your grades. This band was INSANE when I saw them at Siren Fest this past July and reports from the field say that they have only gotten better. XL Recordings is dropping their self-titled debut album on March 13th in the UK, but I am not sure what the US date is. The

Extra Extra EP

is currently available through Infinity Cat.

And not that I am the biggest fan of the South, but just like me, BYOP are fans of the great Waffle House! Perhaps Jemina and I can share an early morning breakfast. Check the tour dates...

Feb 10 2006 : The Masquerade-Hell Room | Atlanta, GA
Feb 11 2006 : Cat's Cradle | Carrboro, NC
Feb 14 2006 : Space 1026 | Philadelphia, PA
Feb 15 2006 : Knitting Factory | New York, NY
Feb 17 2006 : Maxwells | Hoboken, NJ
Feb 18 2006 : Southpaw | Brooklyn , NY
Feb 21 2006 : Black Cat-Back Stage | Washington DC

MySpace: Be Your Own Pet
Audio: "We Will Vacation, You Can Be My Parasol"
Video: "Damn Damn Leash"
Video: "Let's Get Sandy"