Devics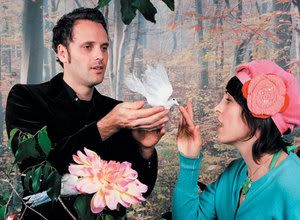 On Devics' fourth album, Push The Heart, the duo create what is described as a "revelation" and "a new beginning" by retracing their steps and completely reinventing the wheel. Their sound is lush and sophisticated, easily approxiamating Portishead and Throwing Muses. Made up of vocalist Sarah Lov and multi-instrumentalist/sometimes singer Dustin O'Halloran, the duo found a home in Italy after signing to the UK label Bella Union, gaining a following overseas with barely a notice at home. Determined to strike the same gold here, they returned to L.A. in 2004 and inked a deal with Filter U.S. Recordings.

Push The Heart hits stores on March 7th.

Find them on Myspace: Devics
Audio: "Come Up"