Rolo Tomassi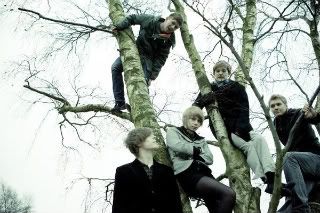 [Photo Credit: Tom Barnes]
Myspace
//
"Scabs"
[Audio]
I've spent a lot of time going back and forth on these guys and I've finally come to the conclusion that they're good, although I have to be in the right frame of mind for them. It's stuff that I went wild for when I was 17, but every now and then, the right band like this comes along that I can get down with. At times, they remind me of the Assistant, albeit more tuneful and without the five minutes of pretentious stories between songs. Rolo Tomassi also gathers as much influences from electronica as they do guitars, and they've recently wrapped up a tour with Blood Red Shoes, who are pretty much the best band ever.
The band's debut album

Hysterics

is out now in the UK on
Hassle Records
.
Labels: Blood Red Shoes, Hassle Records, Rolo Tamassi, Sheffield