SXSW 2k8 Preview: Joe Lean & the Jing Jang Jong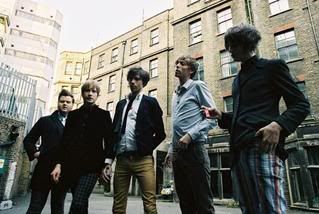 [Photo Credit: Dan Curwin]
Myspace
//
"Lucio Starts Fire"
[mp3] //
"Lucio Stars Fires"
[Video]


Two of the better singles ("Lucio Starts Fires" & "Lonely Buoy")I've heard filter out of the UK recently have both been penned by
Joe Lean & the Jing Jang Jong
. Reading the message boards, it seems that the band is being derided simply as hype, but the band really is worth your time. They are by no means reinventing the wheel, but their take on classic British rock is infectious and smart.


The band's next single, "Lonely Buoy," hits shops on March 10th in the UK, and you'll be able to catch the same day at Sister Ray Records at number 31-35 in London's Berwick Street.
Those of you in the States can catch this month on the coats and at SXSW, while they will be doing a very extensive tour back home in April and May.


Mar 11 - Mercury Lounge, NEW YORK CITY, New York w/ The Pigeon Detectives

Mar 12 - Union Hall, HEADLINE SHOW NEW YORK CITY

Mar 13 - SXSW Austin, Texas
Mar 14 - SXSW AUSTIN, Texas (Mercury Records Showcase @ The Parish 2-6 pm)

Mar 15 - SXSW AUSTIN, Texas (Emo's Main Room @ 9 pm)

Mar 17 - Spaceland Los Angeles, California

Mar 18 - Cinescape Los Angeles, California

Mar 20 - Popscene San Francisco, California


UK Tour
Monday
21st April - Hull Asylum
Tuesday
22nd April - Loughborough Room 1
Thursday
24th April - Reading University
Friday
25th April - Coventry Warwick Marketplace
Sunday
27th April - Bournemouth Old Fire Station
Monday
28th April - Guildford Surrey Rubix
Thursday
1st May - Stoke Underground
Friday
2nd May - Coventry Kasbah
Saturday
3rd May - Tamworth Palace
Monday
5th May - Liverpool Academy 2
Tuesday
6th May -Newcastle Academy 2
Thursday
8th May - Aberdeen Tunnels
Friday
9th May - Glasgow King Tuts
Saturday
10th May -Bristol Thekla
Monday
12th May - Preston 53 Degrees
Tuesday
13th May - Oxford Academy
Wednesday
14th May - Leeds Cockpit
Thursday
15th May - Manchester Academy 3
Saturday
17th May - Sheffield Leadmill
Sunday
18th May - Birmingham Academy 2
Monday
19th May - Nottingham Rescue Rooms
Tuesday
20th May - Brighton Concorde 2
Thursday
22nd May - London Scala
Sunday
25th May - Portsmouth Wedgewood Rooms
Tuesday
27th May - Norwich Waterfront
"Lonely Buoy"