Health On Tour + Award Nominations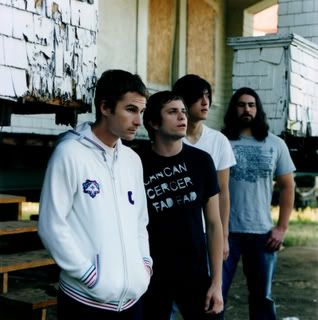 Myspace
//
"Perfect Skin"
[mp3] //
"Triceratops"
(Acid Girls Remix) [mp3] //
"Heaven"
[Video]


I suppose that if you're into weird LA rock groups, then you already know
Health
, but if not, it's time to get on board. The band was just nominated for the 2008 Plug Awards, made it onto Pitchfork's Top 50 videos of the year list (who cares) and will be touring the west coast to start the 2k8.
The band's self-titled debut is out now on
Lovepump United
.


HEALTH Live:
* w/ Dan Deacon
% w/ White Williams


01/15 Los Angeles, CA El Ray*
01/17 San Francisco, CA Great American Music Hall*
01/18 Oakland, CA 21 Grand

01/19 Davis, CA Delta of Venus

01/20 Sun Reno, NV The Studio on 4th

01/21 Chico, CA The Crux Arts Collective
01/22 Olympia, WA Voyeur

01/23 Vancouver, BC Media Club%

01/24 Seattle, WA Chop Suey%

01/25 Portland, OR Holocene%
01/26 Eureka, CA The Vista

01/27 Santa Cruz, CA Blue Lagoon

01/28 San Luis Obispo, CA Tridosha Healing Center

01/28 Los Altos Hills, CA KFJC Radio 89.7 FM

01/29 San Diego, CA Casbah%
01/30 Goleta, CA Biko Co-op Garage Performance Space

02/01 Los Angeles, CA El Ray

02/02 Bakersfield, CA Narduccis Cafe