Concerto For Constantine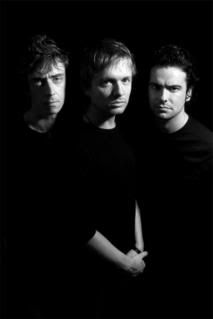 When JJ72
called it quits
last June, things were a little quieter around the Exitfare office, but over the past year a few demos have creeped onto Mark Greaney's Myspace page, plus there was promise of a new project. While checking it out tonight, I found out that his new band has been together for a few months.


The band is called Concerto For Constantine and is rounded out by bassist Gavin Fox (formerly of Turn, Idlewild and Vega4) and drummer Binzer (formerly of The Frames, BellX1 and Halite), who also plays drums for Mundy and My Brightest Diamond. The demos they have posted are rough and fairly straightforward with only hints of the members epic rock roots. I am excited to see where these guys take this new group, and it's great to see Greaney making music again.


[Myspace]
Concerto For Constantine

[mp3]
"Gaps"
[mp3]
"Killing Fields"