Againist Me! On Tour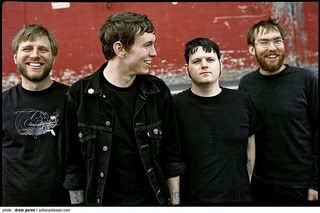 New Wave

came out yesterday, which is the band's major label debut.
Against Me! will be doing two special week of release in-store performances. Here are the details:
July 11th @ 9 pm at Vintage Vinyl (51 Lafayette Road, Fords, NJ. Tel: (732) 225-7717)
July 13th @ 6:30 pm at Backside Records (139 North San Fernando Blvd., Burbank, CA. Tel: (818) 559-7573)
Catch Against Me! On Tour:
July 28th Seattle, WA - Capitol Hill Block Party
July 29th Spokane, WA - Big Easy
August 1st Des Moines, IA - House of Bricks
August 3rd Chicago, IL - Lollapalooza
August 5th Omaha, NE - The Slowdown
August 7th Tulsa, OK - Cain's Ballroom
August 8th Ft Worth, TX - Ridgelea Theater
August 9th Corpus Christi, TX - House of Rock
August 10th Houston, TX - Meridian
August 11th New Orleans, LA - House of Blues
August 14th Nashville, TN - Rocketown
August 15th Charlotte, NC - Amos' Southend
August 16th Charleston, SC - Music Farm
August 17th St. Petersburg, FL - Jannus Landing
August 18th Jacksonville Beach, FL - Freebird Live
August 19th Gainesville, FL - Common Grounds
[Myspace]
Against Me!