The Perishers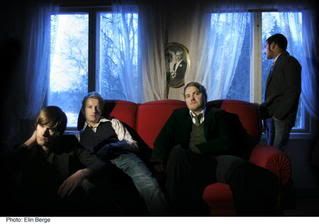 The Perishers
had been playing shows throughout Sweden for seven years when they released their second album,

Let There Be Morning

. Quickly, things started to change. The band started getting radio airplay, started playing bigger shows, and soon landed a song in a major car advert. Two years later, the band's stature continues to grow in spite of a lengthy hiatus to write and record a follow-up album slated for release on September 4. It's crazy, but not all that surprising--after all, the public can't seem to get enough of pop-friendly alternative rock bands like Keane and Snow Patrol lately.

It must be said that The Perishers are quite different from those other bands. Firstly,
The Perishers' music is a bit more subdued, more heavily reliant on a strong vocal melody, and supported more often by lush orchestration than those more rock-oriented groups. Secondly,
The Perishers make me want to kill myself. Now, don't call a help line or anything--I mean it in the best possible way. Ola Kluft has a melancholy baritone voice that amplifies the emotive elements portrayed in their songs to the point that I feel those same exact emotions in the pit of my stomach. It's this indescribable element that makes The Perishers such a powerful band.


T
he Perishers' third album, appropriately named

Victorious

, features much of this dynamic emotional storytelling. E
ach song is perfectly crafted to make you feel something--be it a gorgeous high or deep piteous low.
You
'll listen to "Carefree" and "To Start Anew" and actually start feeling exuberant and happy in spite of yourself.
You'll be moved by the
hollow sadness of "Never Bloom Again" and "Get Well" to the point of crying while writing an email.
It's crazy, I know. But that's the definition of great music.



[Myspace]

The Perishers


[mp3]

"Carefree"