The Wombats Come Back To The US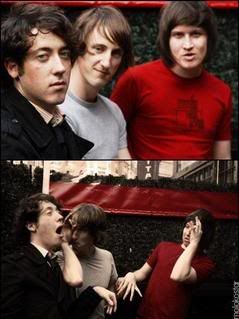 Some news courtesy of
The Tripwire
, it looks like one of Exitfare's favorite new bands is coming back to the States. After seeing them four times [including twice in one day!] at SXSW, we're still not sick of them.

Girls, Boys & Marsupials

fell into my lap very late last year and I am still trying to figure out where these came from and how every song they've recorded is a total fucking hit.
08.06.07 - Los Angeles, CA (The Roxy)
08.07.07 - Los Angeles, CA (Cinespace)
08.08.07 - Los Angeles, CA (Spaceland)
08.09.07 - San Francisco, CA (Popscene)
08.11.07 - Toronto, ON (Mod Club)
08.13.07 - Boston, MA (Great Scott)
08.15.07 - New York, NY (Annex)
[Myspace]
The Wombats
[mp3]
"Summer Hit"