Cazals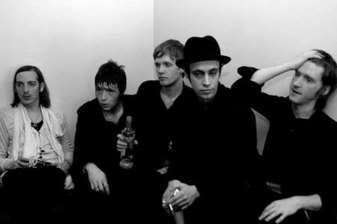 A few fun facts about Cazals:
According to the band, you absolutely cannot precede Cazals with a 'the.' If you do, be prepared for "public ridicule" and "threatening phone calls late at night" from lead singer Phil Cazals. Or worse.
Lead singer Phil Cazals' last name isn't actually Cazals. Each of the band members adopted the surname Cazals [presumably] in a nod to

The Ramones

. Or maybe

The Donnas

.

Cazalaide (n.): illegal parties thrown by Cazals to help raise money to buy new instruments after theirs had all been stolen.

Bloc Party

and

The Rakes

both helped out by playing sets and everybody's favorite blood-painter,

Pete Doherty

, showed up.

Ok, enough of that. Cazals is another promising young London band that I feel is on the cusp of really blowing up. Imagine

Paul Weller

singing over jagged guitars, punchy basslines, and crashing drums. Imagine dance floor ready post-punk that mixes sneering attitude with occasional handclaps. And then imagine adding the type of killer riffs and choruses that stay in your head for days... then you'll have Cazals.
If you like what you hear, then you'll be happy to know that Cazals has a wealth of material available online for free download. There are a total of six demos split between their
Myspace
and the
music section of their website
. Or try their
news section
for MP3s of their XFM session with John Kennedy.
Myspace:
Cazals
Audio: "Poor Innocent Boys"