The Studiofix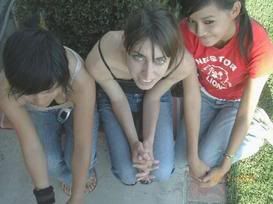 I just got The Studiofix's debut album, self-released and recorded and all that. They remind me of a lo-fi Del Cielo, a favorite of mine who have unfortunately broken up. Check this California band out and make sure you drop the three bones for their debut album!

Those of you around Los Angeles should check out these jams:

Sat, Oct 29. 10 pm.

FREE SHOW @ THE QWESI
1222 West 23rd Street, Los Angeles, CA 90007,US -
23rd and Hoover. With The New Motherfuckers, Death Skull and Her Rigormorts, others? QWESI.COM for more.
It's 2 of our friends birthday so bring them presents assholes.

Sunday, October 30, 2005 7.00 pm
FREE SHOW @ La Cafepia
1327 S. Harbor Blvd.
Fullerton, CA 92831
tel (714) 870-7588
We go on at 7:30 pm.
With My Machete and Le Steaky Wakes

Monday, October 31 --- HALLOWEEN!
Halloween Street Fair 8pm-12am
Melrose Avenue and Helotrope
Hollywood, CA
With The New Motherfuckers and Death Skull and Her Rigormorts and The Lottery.

I've had two coffees today and I am loving life.