CMJ 2k5 [part one]
So guys,
CMJ 2k5
is right around the corner. It goes down from Sept. 13th-17th. As I was surverying the schedule last night, there are a ton of bands that I am excited for. Here are some to start off the day: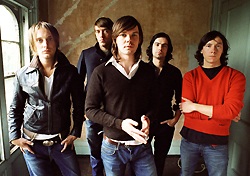 Idlewild
opens shit up on Tuesday the 12th at
The Syndicate's
annual "Conflict of Interest" party. Some other bands are playing, including
Nightmare of You
, but really all you need to know is Idlewild, who just dropped their great fourth album
Warnings/Promises
.
Their show Tuesday night here in Boston at
The Paradise
was great despite Roddy Woomble souding a little off for the first few songs. He hit rock bottom on the normally great "These Wooden Ideas" with certain lines being way flat. Woomble was able to pick things up later in the set as the band started to gel more. I am guessing a lot of this had to with them not playing for a few weeks. Seeing the band interact with a crowd that is much smaller than what they are used to in the UK was interesting: no rock star attitudes, just a simple, at ease demeanor.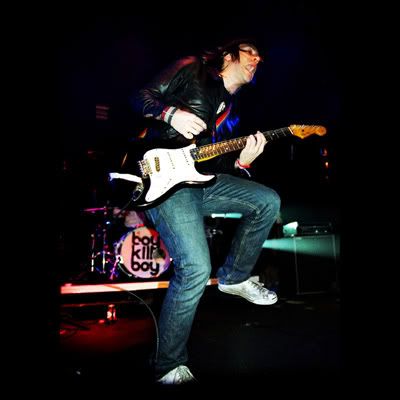 On Wednesday night, East London group
Boy Kill Boy
will be getting down at
Sin-e
in the East Village on Wednesday at 9:15. They are generating a lot of buzz back home, including the requsite
NME
spazzouts.
Barfly
has this to say about them: "This brand spanking new band from East London have been causing quite a stir these days. Their first single Suzie was released in May on Fierce Panda Records, and since then has helped the band gain the notoriety they deserve. Boy Kill Boy are anthemic pop rock at its finest. The band infuses keyboard sounds in a way that is similar to the Killers or the early days of Supergrass, with their own flair. They can be seen touring this summer with Hard-Fi, and on their very first stint at the UK festival circuit."