Wintergreen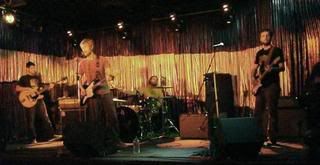 Myspace // "Telechrome" [mp3]

Los Angeles indie rockers Wintergreen released a new single on their Myspace page today entitled "Telechrome." Much like the majority of the songs on their full length debut

Around & Around Again

, the song is a toe tapper with furious guitar work, energetic drumming, and the most wonderfully catchy call and response chorus. I'm not sure if the band is currently working on a new album or not, but if their new material sounds half as good as "Telechrome" then this may be their year.