Pop Montreal 2k7 Recap + We're Marching On
This past weekend's
Pop Montreal
festival was an exhausting, but fun affair. It lasted from Oct. 3rd-7th, and although I was there just on Thursday, Friday & Saturday, I saw enough great new bands to give me a few weeks of posts!


On top of that, this is one of the most well run festivals I've ever been to. Check-in was organized, the free bag was filled with useful information, the festival guidebook was well laid out and informative with not only tips about bands, but useful hints for navigating Montreal and there were frequent updates sent out via text message. Count me in for 2k8.


This week I'll be recapping some of my favorite bands from the fest, and it all starts with Toronto's We're Marching On.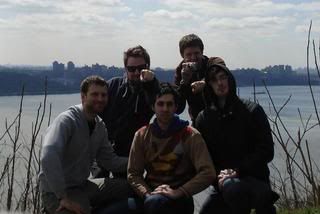 I wrote about these guys
two years ago
, but after a few months, they quietly slipped into the background. When I was glancing over this year's PM schedule, I saw that they were playing, so I knew it was my chance to finally see them -- I don't think they've ever played a show in the States.
They went on around 8 pm Friday night at
Preloved
, which is a rather unique vintage clothing store, and played an exciting 30 minute plus set with the lights out.

These guys just may have been the best thing I saw all weekend as they managed to pack a small store full of kids that were hanging on every note and every word. The crowd knew all of the words and didn't miss a beat when accenting the high notes with fist pumps and awkward white kid dance moves.


The band's

Argh! Umph! Ahh!

EP has been floating around for awhile and when an album finally drops, I sense big things for these guys. I am really surprised that more blogs have not caught on yet.


[Myspace]
We're Marching On

[mp3]
"1800s"