Pop Montreal 2k7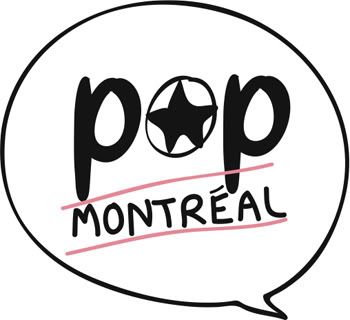 Hey friends, in case you didn't know, I also write for
Stranded In Stereo
, which is a pretty awesome site. Check it out sometime.
But anyway, I just did a piece on
Pop Montreal
for
SIS
highlighting a few new bands, so I am going to be all lazy and repost some of it here.
By the way, Pop Montreal began yesterday and it goes through Sunday. It's in Montreal, obviously, and if any of you guys are going, hit me up. So here are some of the bands to look out for:
We're Marching On
:

I was tipped off to these Toronto locals a couple years ago, but in classic Dany-fashion, some other band distracted me and I moved on. I'm glad they're on the schedule because I am still dying to see them. By taking the theory that more is always better and applying it to indie rock, they make a sound that fits like a glove and then immediately tears off your hand. In the best way possible.
[Thursday 10/04 1 am @ Coda // 4119 Saint-Laurent]
Thundrah
:

When you ask someone "Hey man, I need good bands to check out when I am at Pop Montreal, who should I check out?" and this is the first band they suggest, it's obvious that you're on the same wavelength. These Montreal locals play like Thurston Moore would if he only listened to bands on Dischord. If there were more bands like this, life would be a few steps closer to perfect.
[Wednesday 10/03 11 pm @ Theatre National // 1220 Sainte-Catherine E.]


[mp3]

"Weighing & Wanting"

Syme
:

Do you ever wonder why so many awesome bands come from Norway & Sweden? Syme hails from the former and makes an excellent approximation of what I am going to dub "Norsecore." Their tunes bring to mind Sigur Ros and Mew in that cinematic, almost futuristic way by adroitly balancing melody and noise.
[Friday 10/05 10 pm @ Academy Club // 4445 Saint-Laurent]
[mp3]
"Modern Love"
Yelle
:

She's from France, and while some people might say that's no different than Montreal, that's something that should never be uttered out loud. Fights will ensue. But anyway, back to Yelle. It's a sound built for the dancefloor, perfect for your Justice fans that are craving a bit more of that classic song structure. Her tunes have been blowing up the blogosphere for a minute now, but I have high hopes for her as part of the new French Revolution.
[Saturday 10/06 1 am @ Les Saints // 30 Sainte-Catherine O.]
[mp3]
"85A"
[Myspace]
Pop Montreal