Division Day: Cover Song Series [Part 3]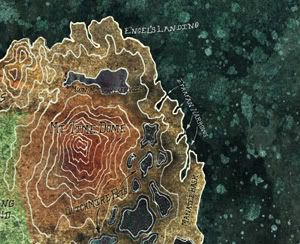 Enclosed is this week's installment of the
Division Day
cover song/remix series, plus the third piece of the map of

Beartrap Island

. I totally love this song, and it's great what they've done with it. Here is what they have to say about Depeche Mode's "Enjoy The Silence":


"this song became a regular band-van jam in the last year, due mostly to kevin's long-lived love affair therewith- he claims an intense affinity with "silence" since early childhood. when the covers project idea started getting bounced around, this was sort of a shoe-in- a perfect pop song with an elegant melody, tantalizingly simple, but iconic enough to make the undertaking not a little foolishly hubristic. kevin wanted to playfully undermine the original's electro leanings by building the song on a foundation of tube-overdriven acoustic guitar, and this became a great spring-board for increasingly organic textures. i wanted to make the song a kind of conversation between raveled anti-fidelity and unlikely grandeur."
[Myspace]
Division Day
[mp3]
"Enjoy The Silence"