Sally Shapiro Getss US Release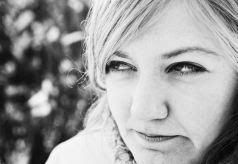 Canadian-based
Paper Bag Records
will be releasing Disco Romance, the debut album from
Sally Shapiro
on October 30th. The Swedish singer released the album internationally earlier this year, and despite the copious praise heaved upon her, has remained a proper enigma. She shys away from photographs, records under a pseudonym and even showed up to her album's official release party incognito.
The album is a catchy affair, falling somewhere between Saint Etienne and Annie.
1. I'll Be By Your Side (Extended Mix)
2. I Know
3. Find My Soul
4. Time to Let Go
5. Anorak Christmas
6. He Keeps Me Alive*
7. Hold Me So Tight
8. Skating in the Moonshine*
9. Jackie Jackie (Spend This Winter With Me)*
10. Sleep in My Arms
* = exclusive to the US release
[Myspace]
Sally Shapiro
[mp3]
"I'll Be By Your Side"