The Kooks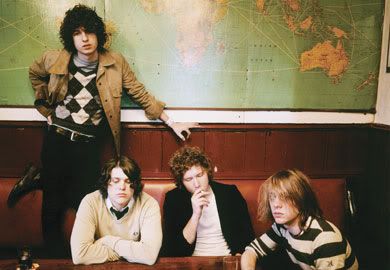 Believe it or not, The Kooks only formed in early 2005 and by the end of the year, they were releasing singles on Virgin UK that made the charts. The band's tough garage rock sound is refined just enough for public consumption, and their likability is apparent in spades in songs like "You Don't Love Me" and "Naive." Just like every other great British band, they conquered their homeland first, so expect

Inside In/Inside Out

to drop stateside via Astralwerks on October 3rd. They will also be playing a handful of dates in select cities -- I think the Brooklyn date is during CMJ, so you will know where to find me...


Oct 24th Check your ponytail @ Safari Sams, LA, CA
Oct 25th NME club night @ Spaceland, LA, CA
Oct 26th Popscene @ 300 Ritch, San Francisco, CA
Oct 28th North Six, Brooklyn, NY
MySpace:
The Kooks
Audio:
"See The World"
Audio:
"Match Box"