Boston: Shows [Week of 08.28.06]


Let's just say that things are rather slow this week around Boston -- there are a handful of shows, few of which that are really exciting. Hopefully things are going to pick up on the other side of Labor Day, and just a quick glance at the show calendar indicates that things are going to get really hectic very soon! The first few weeks of September bring Sonic Youth, The Flaming Lips, Sound Team, The French Kicks, Birdmonster, The Strokes, Man Man and The Gossip to town, and that's just to name a few. September will also bring some changes to Exitfare, so stay tuned for that.

Not to get too much into my weekend, but anyone read The Globe on Saturday? I was lucky enough to be profiled with a number of Boston's best bloggers, and if you aren't already reading sites like Bradley's Almanac, rbally, Hello Gina and Los Amigos du Durutti, then you're obviously wandering down the wrong path on the internet. You can check out the article here, but you need a free login to actually see it.

I just got back from seeing

Little Miss Sunshine

, which is definitely a good movie, but not as great as I've read in reviews. I love the grandfather, and Olive's performance at the end totally seals the film. Instead of a show this week, check out a movie, a smaller local band or you can whine about how the Red Sox won't be making the playoffs this year. Now you know how I feel as an Orioles fan!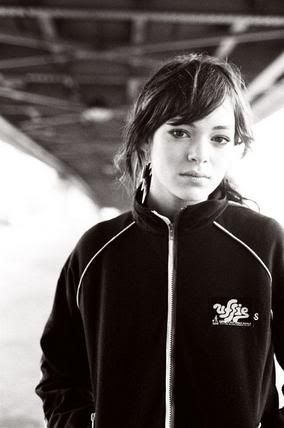 08.29:

Uffie

/

7L & Esoteric

/

Brendan Wesley

/

Red Foxx

@

Great Scott
Despite the rumors, Uffie is not really from Europe, although she has lived there most of her adult life. Her sound is the aural equivalent of a jetsetter's passport -- the been there, seen everything sound has something for everyone and at times references

L'Trimm

,

Avenue D

and

M.I.A.

, falling somewhere between electronica and hip hop. This show will be a Friday night party on Tuesday, and will more than likely be packed by 9 pm.


Audio:

"Hot Chick"



09.01: Labor Day Dance Party [

The Pill

] @

Great Scott
This is what Paul L. says on Yelp:
"Friday's The Pill is always a great dance-fest with hipster indie kids going crazy in their Chuck Taylor's. Cover is usually 7 bones.
Their shows are totally fab. Very intimate if you're close.. (Obv). And a good soundsystem.
Pabst Blue Ribbon is the beer of choice here. Drink it with pride."