Headlights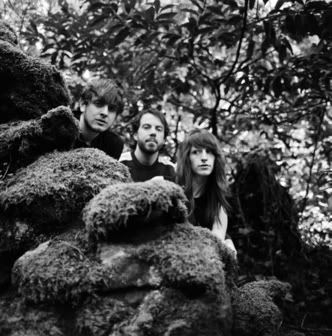 People don't think of Champaign as a musical hotspot. The small city is better known as home to half of the University of Illinois, Urbana-Champaign, and the location of a Kraft Foods plant. Believe it or not, Champaign is actually the birthplace of a diverse group of incredibly successful artists including
REO Speedwagon
,
Hum
,
Allison Kraus
, and
Ludacris
(well, Hum was never incredibly successful). If the city keeps it up, then maybe it will become the "new" Omaha or something.
One of the newer arrivals on the Champaign scene is the indie pop group,
Headlights
. Yesterday, the band released their debut cd
Kill Them With Kindness
on
Polyvinyl Records
. To fans, the album was a long time coming—Headlights formed in the spring of 2004 and only released a couple of studio tracks on an EP and a split 7" (with
Most Serene Republic
) during that two and a half year time. The band only whetted the appetites of their fans more by playing a bunch of their new songs during their extensive tours in 2005 and 2006 supporting the
Mates of State
,
Mono
,
Magnolia Electric Co.
, and a whole host of other bands whose names don't start with the letter "m."
Kill Them With Kindness
fits squarely in the indie pop genre as the album mixes bright melodies with upbeat drumbeats and quirky orchestral instrumentation (from strings to xylophones, sleigh bells and synthesizers). Plucky pop songs like "TV," "Words Make You Tired," and "Hi-Ya" are interestingly, enjoyable, and fun, though I tend to like their straight-ahead numbers better. "Lions" mixes a fuzzy guitar riff with rocking drums, a bouncy synthesizer, and almost 70s family band style harmonies together to make the perfect song to wake up to on a gorgeous summer day. "Put Us Back Together Right" seems like a quiet, melancholy song but it quickly builds and builds under Erin Fein's girlish voice until its final climax nearly four minutes later. Though still depressing, it is depressing in a commandingly forceful way.
Unfortunately, not all of the songs on
Kill Them With Kindness
live up to that same level of quality. The short interlude "The Midwest Is The Best" with its brief harmonica break seems completely pointless as it does not present a real melodic or thematic idea that adds to the album. Similarly, "Struggle With Numbers" is another rough, unneeded track as it consists solely of a swirling synthesizer and not in an interesting Radiohead-esque way either… more like a waste of a minute and a half of my life. "I Love, You Laugh" starts with a quiet hiss and is complimented by stark vocals and a few piano chords, but then it abruptly ends. It almost seems like it was a good idea that just wasn't fleshed out in the studio. Or maybe the band felt it needed to present a couple of serious, minimalist songs to contrast the fluffier pop sensibilities evident earlier in the album?
Don't allow those three songs to turn you off from the album, however. Headlights has crafted a gorgeous debut with a diverse palette of sounds and instruments that I'm sure will prove enjoyable to just about anyone even upon multiple listens.

Check them out on tour:


08/24 Milwaukee , WI @ Cactus Club
08/25 Chicago , IL @ Schuba's
08/26 Lake Forest , IL @ The Chapel
08/27 Urbana , IL @ Canopy Club
08/29 St. Louis , MO @ Hi-Pointe
08/30 Lawrence , KS @ Jackpot Saloon
08/31 Springfield , MO @ Randy Bacon Gallery
09/01 Tulsa , OK @ Mooch and Burn
09/02 Oklahoma City , OK @ The Conservatory
09/03 Albuquerque , NM @ Atomic Cantina
09/05 Odessa , TX @ The Roadhouse
09/06 Tucson , AZ @ Plush
09/07 Phoenix , AZ @ Modified Arts
09/08 San Diego , CA @ Che Cafe
09/09 Los Angeles , CA @ Spaceland

*All dates with Decibully.



For more tour dates for basically every city or town in America, check out their website.



Buy:

Kill Them With Kindness



Myspace:
Headlights
Audio:
"Put Us Back Together Right"