Noise Beat Propaganda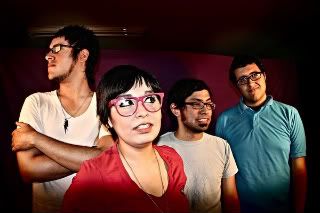 [Photo Credit: Dsek World]
Myspace
// "Can't Let You Go" [Audio]
Mexicali is a border town on the Mexican side of the US/Mexico border, a city that straddles two worlds, one a developed nation and the other a developing one. Noise Beat Propaganda is a band that has their feet firmly planted in both worlds, even singing in both Spanish and English. The band's recently release debut EP

We're in Love, Yeah Right

, came out earlier this year on Poni Republic, and at times reminds me of such hyperactive indie bands like Johnny Foreigner, but there's is definitely something quite a bit different going on here.
Download the EP for free from
Poni Republic
.
Labels: Mexicali, Mexican indie, Noise Beat Propaganda, Poni Republic