4 or 5 Magicians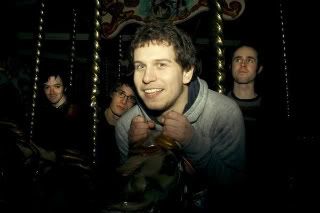 [Photo Credit: Paul Choy]
Myspace
//
"Nice Little Earner"
[Audio]
Brighton group 4 or 5 Magicians is a band formed around songwriter Dan Ormsby, whom plays out and often records with musicians he feels are "better at playing stuff than me." They have just finished recording and mixing their debut album with Ian Button (Death in Vegas) with a tentative release date of April. Should be a riot! The band have had singles out on
This is Fake DIY
("Change The Record" / "Ideal Man") and
Alcopop!
("Forever on the Edge"). The band is playing a string of dates this month, including one while I am in the country. Again, this should be a riot!
Labels: 4 or 5 Magicians, Alcopop, Brighton, Girls Aloud, This is Fake DIY